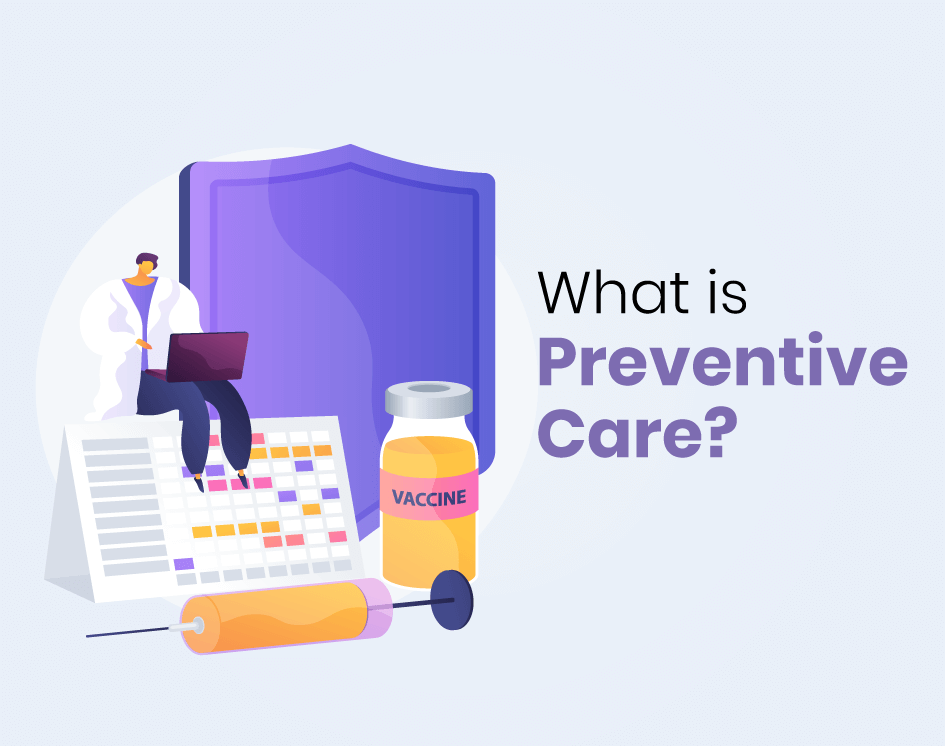 What is preventive care?
Preventive care is any medical care service that provides prevention from disease or reduces the probability of medical or health emergencies. It stands for taking preventive measures to protect oneself against an injury, disease, or illness before it becomes catastrophic or life-threatening. The goal of preventive care is to prevent genetic or acquired illness or disorders before the condition turns lethal. Preventive care measures can be applied at any point in life. So, it is valid across all lifespan and across the stages of diseases' spectrum. The target of preventive care is to live a fit and healthy lifestyle.
Prevention Care is easy on pockets as it reduces the chances of the illness taking catastrophic turns. It avoids the dreadful visit to the ER. Preventive care lowers one's healthcare costs by assessing and treating the disease in its early stage.
Four out of five deaths are caused by chronic diseases. These deaths can be avoided or delayed if the patient has access to regular healthcare.
Diseases that are preventable or manageable with timely preventive care are:
Chronic respiratory diseases

Heart Diseases

Cancer

Stroke

Diabetes

High blood pressure

Cholesterol

Regular Health Check-Ups
To stay on top of your health, it is advisable to go for regular check-ups and screening. Regular health check-ups can diagnose a health problem before they become life-threatening or complicated. Annual checkups of the following are recommended to live a safe and fit lifestyle.
Blood pressure

Body Mass Index

Preventive Screening

Eyesight

Hearing
Apart from these, cancer screening for colorectal, skin, breast, cervical, and prostate should be performed on a regular basis to keep them in check.
With Annual Screening, it is also necessary to stay updated with the latest vaccines and immunization. Everyone over six months should get flu vaccines. Always be sure that you have the following vaccine shots:
Influenza

Tetanus

Hepatitis A & B

Shingles

Meningococcal

Haemophilus Influenza Type B

Pneumococcal

Varicella

Human papillomavirus (HPV)
Benefits of Regular Check-up
Regular check-ups reduce the risk of getting sick and increase your lifespan by detecting life-threatening diseases beforehand. It also helps in reducing healthcare costs over time. It also increases the chances of treatment and cure by maintaining a good relationship with healthcare officials.
In 2021, let us achieve a Fit India. Let us all eat healthily, stay fit, and take care of our health. Hematology BMT Institute International aims to prevent any genetic and acquired illnesses or disorders. With regular check-ups, we can detect diseases before the manifestation of symptoms. We all can live a safe and healthy lifestyle if we adhere to preventive care and regular check-ups. Let's be #FitIndia2021.
Hematology BMT Institute International is a world-class medical institute in Hyderabad, India. Dr. S.K. Gupta, the founder of Hematology BMT Institute International, is a renowned hematologist and oncologist. He believes that early detection, timely treatment can save lives.